The New Leader's Series here at Management Excellence, is dedicated to the proposition that one of the most valuable things we can do is support the development of the next generation of leaders on our teams and in our organizations.
Contrary to what you might believe, the promotion to a role responsible for others is the starting point of your professional education, not the end point reached because of a job well done. 
The skills that made you invaluable and appreciated as an individual contributor are effectively obsolete the day you step into your new role.
It's no longer about what you know and what you did. Rather, it's all about what your team members know and what they can do. It's now up to you to draw the good stuff out of others, and given the complexity of people, you'll soon learn this is darned hard work.
While it might be tempting to revert to the comfort of individual problem-solving or showcasing your technical agility or subject matter expertise, the right thing to do is to create the opportunities for those around you to grab the spotlight while you observe from backstage.
Sadly, given the questionable state of leadership preparation in most organizations, your first foray into this new and very different and difficult world is likely to be filled with misfires and missteps.
While experience is indeed the best and only teacher for this challenging role, there are (at least) 3 key skill sets you will be well-served to study, apply and continue to strengthen:
3 Critical Skill Sets New Leaders Must Cultivate:
1. Feedback, feedback, feedback. Most new leaders stink at this particularly challenging activity. Run, don't walk to get help with this critical skill. The ability to deal with feedback…is about as close as you'll get to finding a silver bullet. The sooner you cultivate some good feedback habits, the better you and everyone around you will be.  A bit of training… and a ton of practice will help build your confidence with this critical skill.
2. Active listening skills. While many in positions of authority assume that their title provides them a license to talk, the best leaders understand that listening is significantly more important than speaking…and that any speaking you do better follow one heck of a lot of listening.  And remember, paying attention to others is a strong way to show your respect for them. You can't lead without earning trust…and it starts by showing respect.
3. The Art of Asking Questions. No, your goal isn't to be the inquisitor from hell, but rather to develop an inventory of good questions that encourage your team members to think through and around problems and opportunities. Questions are powerful teachers and they are equally powerful tools for assessing talent, performance and developmental needs.
The Bottom-Line for Now:
You can't start cultivating your critical new leadership skills fast enough. Study leaders in the workplace that you admire and attempt to discern what makes them effective. Do the same with leaders you don't admire. (Lousy leaders are great examples of what not to do!) Read voraciously and practice your feedback, listening and questioning skills constantly. Keep a journal of what works and what doesn't, and most of all, keep refining your approaches and keep asking for feedback on your own performance. It's hard work being in charge.
–
Don't miss the next Leadership Caffeine-Newsletter! Register here
For more ideas on professional development-one sound bite at a time, check our Art's latest book: Leadership Caffeine-Ideas to Ene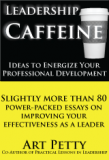 rgize Your Professional Development. 
Download a free excerpt of Leadership Caffeine (the book) at Art's facebook page.
New to leading or responsible for first time leader's on your team? Subscribe to Art's New Leader's e-News.
An ideal book for anyone starting our in leadership: Practical Lessons in Leadership by Art Petty and Rich Petro.
Need help with Feedback? Art's new online program: Learning to Master Feedback