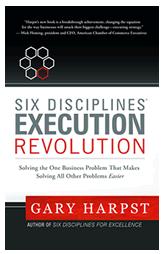 I started this book series to share the insights and approaches of some truly sharp people on solving vexing business problems. This particular interview with Gary Harpst, author of,  Six Disciplines Execution Revolution and the earlier Six Disciplines for Excellence, taps into Gary's hard won, practical experience and his great ideas on helping small and mid-sized businesses deal with strategy execution.
On a personal note, the discussion, while remaining true to the strategy execution topic, ranged fairly far beyond the borders of the book. Talking with Gary during this interview was like engaging with the wise, thoughtful and helpful business advisor that we all wish we had. Gary offers experienced based, actionable ideas on improving business performance through great execution, that we can all put to use immediately.
Gary's premise for his "Business Excellence Model" is described in the book as:
"Excellence is the enduring pursuit of balanced strategy and execution."
"Planning and executing, while at the same time dealing with the inevitable surprises, is the biggest challenge in business.
"Overcoming this challenge is what we mean by "solving the problem that makes all others easier."
"Failing to solve the problem destines your organization to a reactive, fire-fighting future.
During the podcast, we talk about the different stages/phases found in the "Business Excellence Model," and reference the four-box matrix pictured here: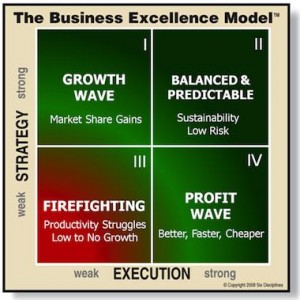 Enjoy the podcast and this unique opportunity to learn from someone that has lived what he is talking about from the business-owner's side of the table, and now helps clients realize success by guiding them on effective strategy execution.  I'm thrilled to feature Gary Harpst and his important thoughts on strategy execution here in the Management Excellence Book Series!
Gary Harpst Six Disciplines Execution Revolution podcast
[ 27:57 ]
Play Now
|
Play in Popup
|
Download
–
Note from Art: I purchased the book, Six Disciplines Execution Revolution on my own and have no commercial motive for sharing this podcast and linking to Gary's website. The Management Excellence Book Series podcasts are intended to share thoughts from leading figures in business and management writing.